(for English scroll below)
Klavdij SLUBAN est un photographe français d'origine slovène, né à Paris le 3.3.63. Il est lauréat du prix EPAP, European Publishers Award for Photography 2009, avec publication du livre "Transsibériades" simultanément dans six pays d'Europe, du prix Leica (2004) ainsi que du prix Niépce (2000).
Sluban mène une œuvre personnelle rigoureuse et cohérente, ce qui en fait un des photographes-auteurs majeurs de sa génération. Souvent empreints de références littéraires, ses nombreux voyages photographiques se situent en marge de l'actualité chaude et immédiate. La mer Noire, les Caraïbes, les Balkans, la Russie, la Chine, l'Amérique centrale, les îles Kerguelen (1ère mission artistique en Antarctique)… peuvent se lire chez lui comme une rencontre entre la réalité du moment et le sentiment intérieur du photographe dromomane. Ses noirs profonds, ses silhouettes à contre-jour confèrent à son écriture photographique une droiture et une justesse exemptes de tout didactisme ou exotisme.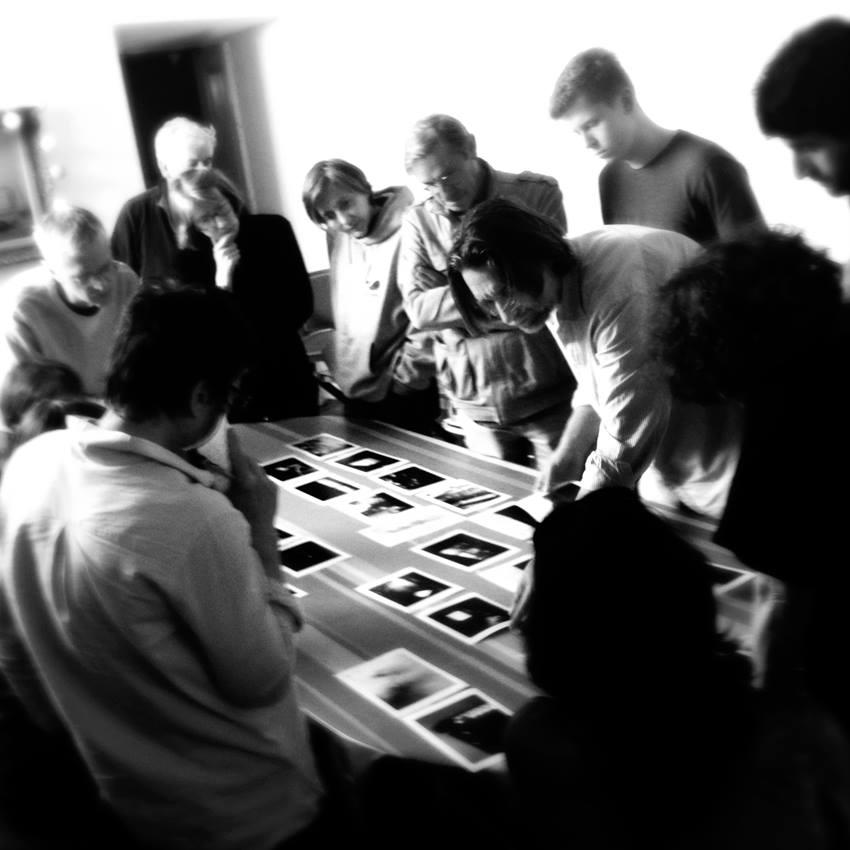 Depuis 1995, Klavdij Sluban photographie les adolescents en prison. Partageant sa passion, il organise des ateliers photographiques auprès des jeunes détenus. Cet engagement commencé en France (Fleury-Mérogis) avec le soutien d'Henri Cartier Bresson, durant sept ans, ainsi que de la participation ponctuelle de Marc Riboud et William Klein, s'est poursuivi dans les camps disciplinaires des pays de l'Est, en ex-Yougoslavie (Slovénie, Serbie) et en ex-Union Soviétique (Ukraine, Géorgie, Moldavie, Lettonie, Russie), y compris dans les enceintes disciplinaires de Moscou et de Saint-Pétersbourg entre 2007 et 2012 en Amérique centrale auprès des gangs, les maras.
En 2015, il a commencé à photographier les adolescents en prison au Brésil.
Familier des lieux de la détention et partenaire des acteurs qui les peuplent, Sluban déploie au travers de ses images la problématique des espaces clos et des horizons contraints.
Les travaux de Klavdij Sluban sont exposés dans les institutions majeures, notamment ces dernières années au Musée de la Photographie à Helsinki, au Musée des Beaux-arts de Canton, au Metropolitan Museum of Photography de Tokyo, au Museum Texas Tech, États-Unis, aux Rencontres d'Arles, à la Maison  Européenne de la Photographie et au Centre Pompidou/Beaubourg, à Paris. En 2013, le musée Niépce lui a consacré une rétrospective, Après l'obscurité, 1992-2012.
En 2015/16, il est lauréat de la résidence Villa Kujoyama à Kyoto, Japon.
Il a publié de nombreux ouvrages dont Entre Parenthèses, Photo Poche, (Ed. Actes Sud ), Transverses (Ed. Maison Européenne de la Photographie) et Balkans Transit, texte de François Maspero, (Ed. du Seuil). Transsibériades, prix EPAP 2009, a été publié par 6 éditeurs européens.
K.Sluban est membre de jurys nationaux et internationaux (prix Niépce, prix de la Jeune Photographie de Niort, prix Leica, All About Photo…)
Voir le site officiel.
Aussi en lien, sa page Facebook et sa page Wikipédia.
Voici un aperçu de son travail :
Une vidéo sur son travail en collaboration avec H. Cartier Bresson.
Une interview écrite en anglais et une interview vidéo, toutes les deux centrées sur son travail sur les adolescents en prison.
Une émission radio sur les « portraits d'Europe » centré sur les intellectuels européens et diffusé sur RFI.
Un aperçu de son exposition « Habiter l'exil » à la maison européenne de la photographie.
Et enfin son exposition « transsibériades » au Festival d'Arles.
ENGLISH
Klavdij SLUBAN, winner of the European Publishers Award for Photography 2009, of the Leica Prize (2004) and of the Niépce Prize (2000), main French prize in photography, Klavdij Sluban is a French photographer of Slovenian origin born in Paris in 1963.
He develops a rigorous and coherent body of work, nourished by literature, never inspired by immediate and sensational current affairs, making him one of the most interesting photographers of his generation. The Balkans, the Black Sea, the Baltic Sea, the Caribbean, Central America, Russia, China and the Antarctic (first artistic mission in the Kerguelen islands) can be read as many successive steps of an in-depth study of a patient proximity to the encountered real. His images have been shown in such leading institutions as the Metropolitan Museum of Photography of Tokyo, the Maison Européenne de la Photographie in Paris, the Rencontres d'Arles, the Museum of Photography in Helsinki, the Fine Arts Museum in Canton, the Musée Beaubourg, the Museum of Texas Tech University…
His many books include East to East (published simultaneously by Actes Sud, Dewi Lewis, Petliti, Braus, Apeiron & Lunwerg with a text by Erri de Luca), Entre Parenthèses, (Photo Poche, Actes Sud), Transverses, (Maison Européenne de la Photographie) and Balkans -Transit, with a text by François Maspero (Seuil).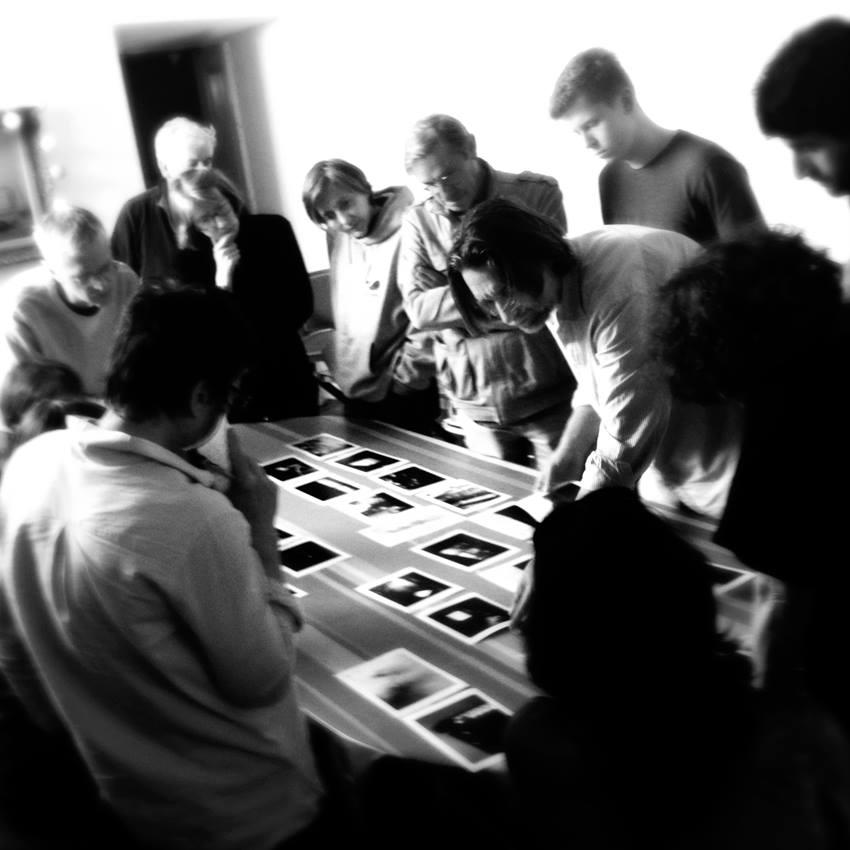 Klavdij Sluban during a workshop
Since 1995, Sluban has been photographing teenagers in jails. In each prison he organizes workshops with the young offenders to share his passion.
First originated in France, in the prison of Fleury-Mérogis with support of Henri Cartier-Bresson during 7 years, as well as Marc Riboud and William Klein punctually. This commitment was pursued in the disciplinary camps of Eastern Europe –Serbia, Slovenia, Ukraine, Georgia, Moldavia, Latvia – and in the disciplinary centres of Moscow and St Petersburg as well as in Ireland. From 2007 to 2012, Sluban has been working in Central America with imprisoned youngsters belonging to maras (gangs) in Guatemala and Salvador. In 2015, he started photogrphing imprisoned teeangers in Brazil.
In 2013, the musée Niépce showed a retrospective of K.Sluban's work, After Darkness, 1995-2012.
In 2015/16, he was awarded the Villa Kujoyama Residence in Kyoto, Japan. K.Sluban is member of national and international jurys, such as prix Niépce, prix de la Jeune Photographie de Niort, prix Leica, All About Photo…
See the Official website
www.facebook.com/klavdij.sluban
https://fr.wikipedia.org/wiki/Klavdij_Sluban
https://www.youtube.com/watch?v=AJqzpOdZjZQ (H. Cartier Bresson & K. Sluban)
https://www.lensculture.com/articles/klavdij-sluban-adolescent-prisons
http://www.rfi.fr/emission/20150830-klavdij-sluban (Intellectuels d'Europe)
http://www.mep-fr.org/evenement/klavdij-sluban-2/
http://www.rencontres-arles.com/C.aspx?VP3=CMS3&VF=ARL_211_VForm&FRM=Frame%3AARL_301